Nothing kills a pizza habit quite like New Year's resolutions. The No. 1 resolution? You guessed it—losing weight. And since pizza has never been considered a health food, your love of pizza is under siege this time of year.
But that doesn't mean you need to quit pizza altogether (phew!). Just lighten up your pie. Here are six tricks that'll help you stick to your resolution and get your pizza fix, too.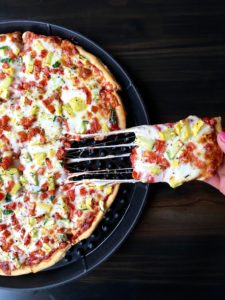 Go Veg
Sorry, meat lovers. If slimming down is a priority, you'll have to halt your carnivore tendencies. Focus instead on adding some green to your pizzas. You've got two options: Build your own pizza with your favorite veggie toppings, or take the guesswork out of the equation and order one of the meat-free pies we've put together for you (like the Strictly Veggie). Vegetable toppings amp up the flavor for a fraction of the calories of meat toppings like pepperoni or sausage.
Rethink your meat
If pizza without meat is unthinkable, do your waistline a solid and switch up the meat you pile on. Instead of dark meat like bacon, sausage, or pepperoni, choose chicken or turkey sausage. Both deliver the meatiness you're craving minus the extra calories and saturated fat content.
THINK THIN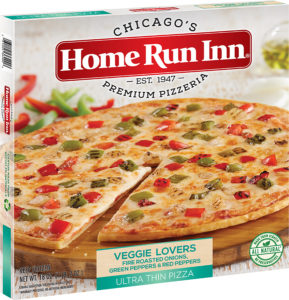 Not to throw shade at deep dish, but here's the thing: All that extra dough equals more calories. So if cutting calories is on your mind, swap your usual deep-dish order for thin crust. And if you're really getting after your resolution, go for ultra thin crust, which has nearly half the calories of our traditional thin crust.
Embrace the cauliflower crust
For an even healthier crust that'll appease the gluten-free crowd, jump on the cauliflower pizza crust bandwagon. Make one at home (we like this recipe from Detoxinista), and dress it up with the toppings of your choice.
pay attention to portion size
Experts agree: The best diet for you is the one you can stick to in the long run. For many of us, that means eating the foods we love in moderation. Sticking to a couple of slices is easier said than done though, right? Here's the fix: Fight the urge to dive straight into the pizza box. Instead, leave it in the kitchen and portion out a couple of slices on your plate. And then take a minute to think about if you really need seconds…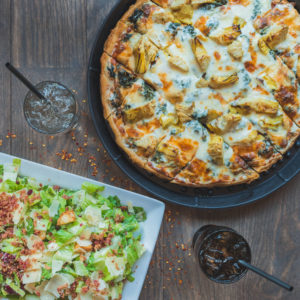 choose some healthy sides
That slice limit will be easier to stick to if you have other options to fill your plate. Add a salad—like the Kale or Harvest Salad—or our vegetable-packed Minestrone Soup to round out your order. Pizza's still the star of your plate, but you'll have other nutritious foods to fill up on first.