Millennials have ushered in a number of food trends, from powering app-based meal delivery services to making desk lunch the new norm. However, they regularly catch flack for an assumed laziness when it comes to cooking and a lack of mindfulness when it comes to eating.
But is there any truth in these stereotypes? And have the next generation – Gen Z – adopted similar habits?
To find out, we conducted a nationwide survey, gathering responses from 1,000 Gen Z and 1,000 Millennial participants, regarding their cooking and dining attitudes. Topics included home cooking practices, constraints around dining out and delivery, food budgeting, and the impact of technology on their overall relationship with food.

Gen Z and Millennials: Cooking Confidence
When asked to rate their confidence in the kitchen, only 33% of Gen Z consider themselves skilled cooks, compared to 47% of Millennials. On average, Gen Z gave themselves a 3 out of 5 rating, while Millennials put their skills slightly higher at 3.4 out of 5.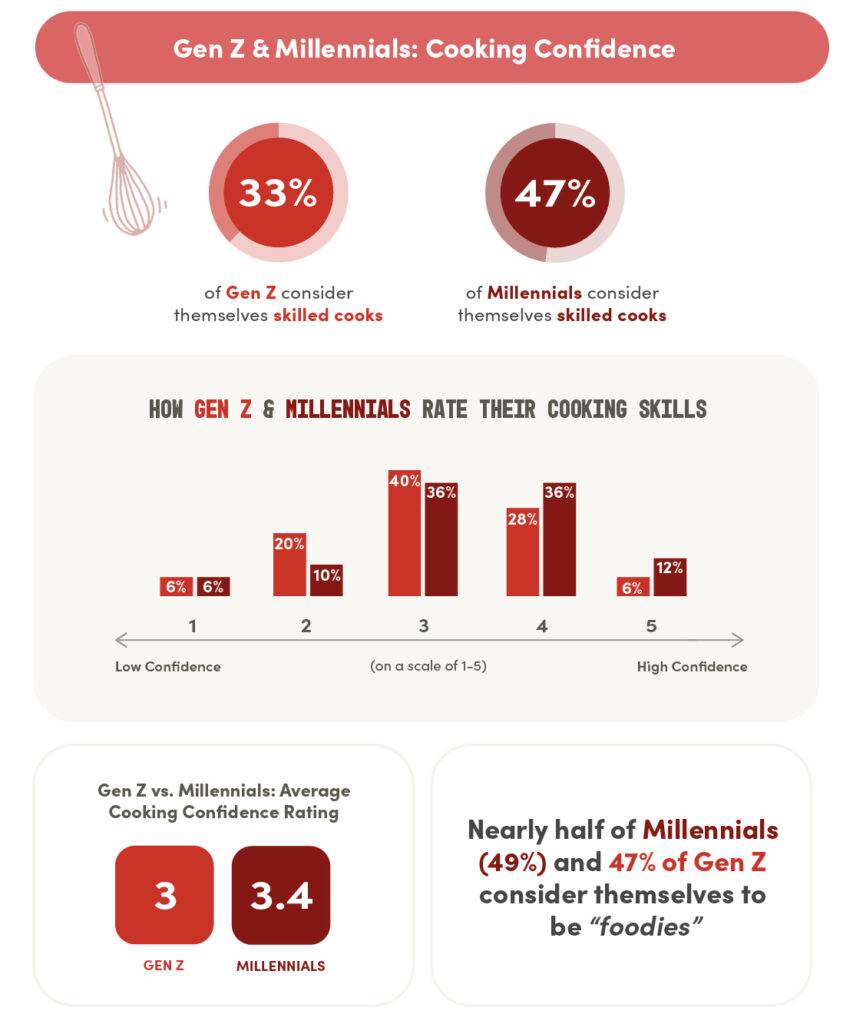 With Gen Z, don't expect a dinner party invite – nearly half (49%) are hesitant to cook for others because they lack cooking skills, compared to only 34% of Millennials.
If you do manage an invite, expect to be wowed (or at least to act it) – more than one-third (35%) of Gen Z say they enjoy cooking to impress others, and 39% of Millennials say the same.
Despite their overall lack of confidence in the kitchen, nearly half of Millennials (49%) and Gen Z (47%) still consider themselves to be "foodies."
Family recipes endure as 45% of both Gen Z and Millennials claim to have replicated heirloom dishes. Nearly the same proportion has faced criticism for their cooking efforts, with 41% of Gen Z and 43% of Millennials acknowledging the receipt of constructive feedback.
Home economics courses have vanished across these generations – while nearly half of Millennials (47%) took home ec classes in high school, only 37% of Gen Z have received school-based guidance.
Gen Z and Millennials: Gourmet Gaffes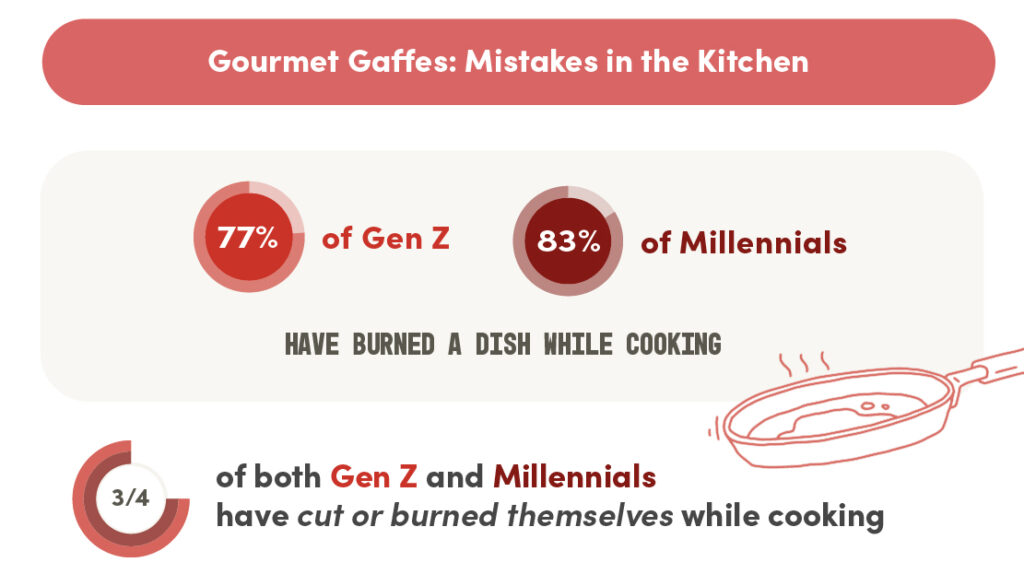 Learning by failing remains a constant in the kitchen: Respondents reported burnt dishes (77% of Gen Z and 83% of Millennials), the addition of incorrect ingredients (55% of Gen Z and 62% of Millennials), and even personal injuries such as cuts and burns (75% of both groups).
And if a meal doesn't come out as planned, it's binned: 69% of Gen Z have thrown out a dish after cooking it, as have 71% of Millennials.
However, backup meals offer damage control, with 25% of Millennials having a frozen pizza on standby as their go-to plan when a home-cooked meal goes wrong.
Regarding food alternatives, Gen Z and Millennials are similarly poised to experiment, with 50% of Gen Z and 52% of millennials sharing that they would try lab-grown meat either at home or in a restaurant.
But dining out might be for the best considering less than half of Gen Z (43%) own a cooking-grade thermometer.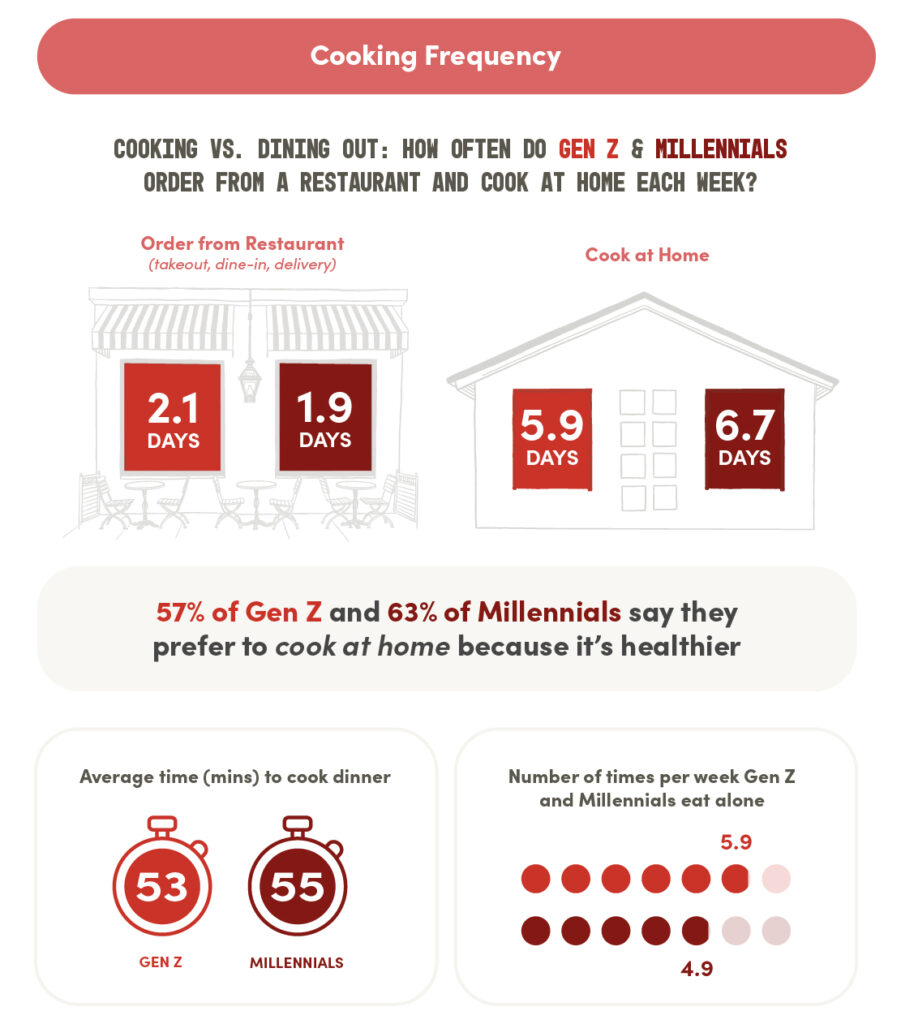 When cooking at home isn't an option, both groups say they eat restaurant-prepared food
(takeout, dine-in, or delivery) a few nights a week, with averages totaling 2.1 nights for Gen Z and 1.9 nights for Millennials.
How Often Do Millennials and Gen Z Cook at Home?
Overall, cooking at home is the norm, with Gen Z cooking an average of 5.9 days a week, and Millennials 6.7 days a week. The overwhelming reason behind this comes down to health: 57% of Gen Z and 63% of Millennials say they prefer to cook at home because it's healthier.
The younger group is more likely to ignore cooking directions. Only 60% of Gen Z bother with following recipes compared to 66% of Millennials.
Dinner is served in under an hour among both groups – Gen Z spends 53 minutes preparing food on average, while Millennials spend around 55 minutes per meal.
Eating alone is common, especially among Gen Z, with 64% stating that they are more likely to cook for themselves than for family, friends, or significant others, compared to 47% of Millennials.
How Much Do Gen Z and Millennials Spend on Food?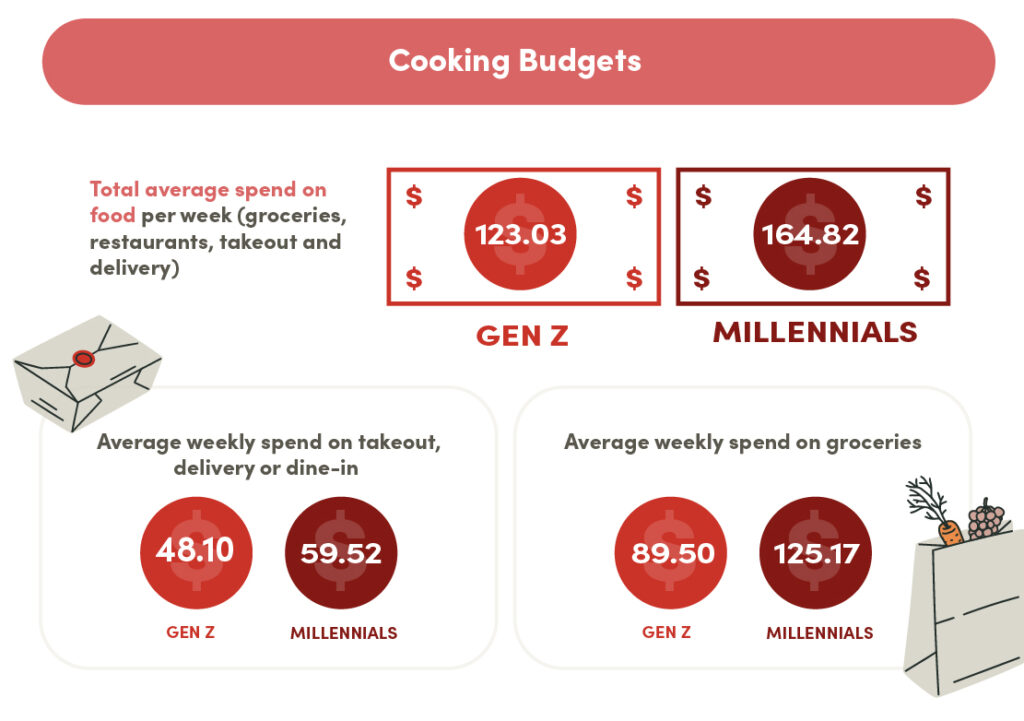 While their budgets for takeout, delivery, and dine-in experiences are similar (with weekly averages of $48.10 for Gen Z and $59.52 for Millennials), 81% of Gen Z and 70% of Millennials report that they would cook more at home if it were more affordable.
Overall, Gen Z spends a total of $123.03 on food in the average week, and Millennials spend an average of $164.82. Groceries represent the lion's share of these expenses – grocery spending amounts to $89.50 for Gen Z and $125.17 for Millennials.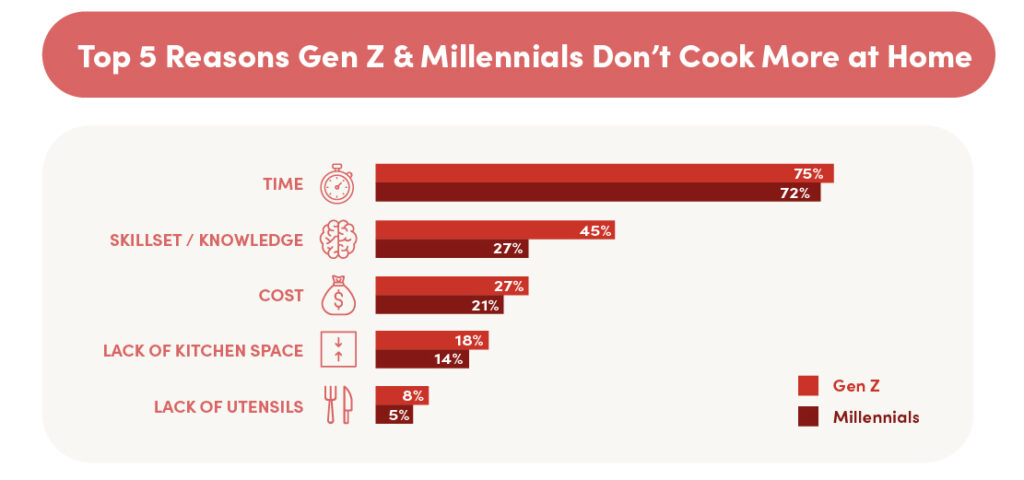 While Gen Z and Millennials both lament the financial cost of cooking at home, it's not the number one reason for avoiding the kitchen – the biggest deterrent is the time cost of meal preparation.
Gen Z and Millennials: Food and "Phubbing"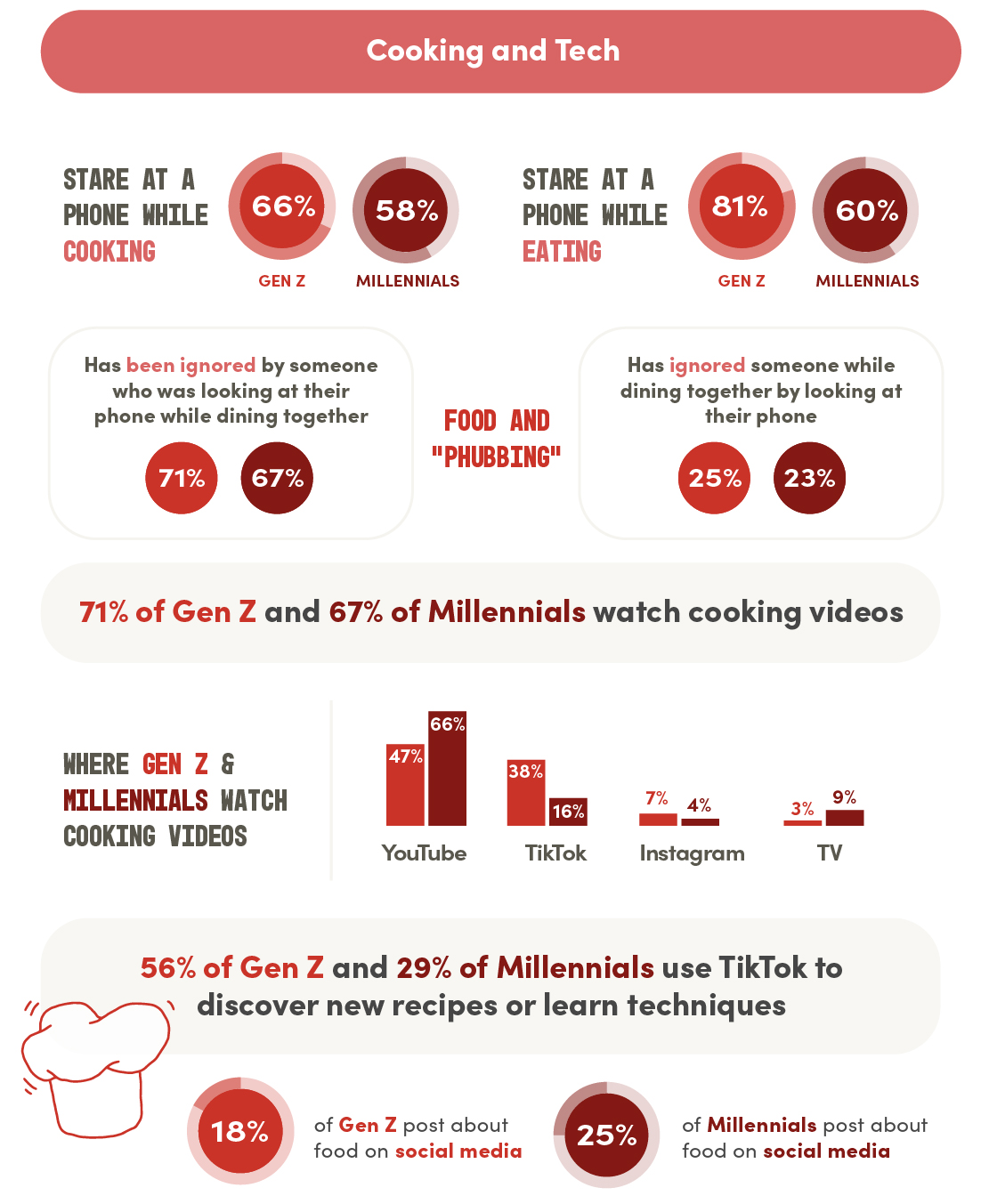 The stereotype that Gen Z and Millennials are attached to their phones is borne out by our research – 66% of Gen Z and 58% of Millennials admit to staring at their phones while cooking, and 81% of Gen Z and 60% of Millennials admit to scrolling during mealtimes.
Both Gen Z (71%) and Millennials (67%) report that they have dined in the company of someone who ignored – or "phubbed" – them in favor of their phone, while about one-quarter (25% of Gen Z and 23% of Millennials) admit that they themselves have "phubbed" someone to check their phone while dining.
The phone also serves as a kitchen companion. 42% of Gen Z and 51% of Millennials have spilled ingredients on their phones while cooking, and 71% of Gen Z and 67% of Millennials use the devices to watch cooking videos.
Gen Z and Millennials rely on different sites to learn new cooking techniques and uncover new recipes. 56% of Gen Z use TikTok for cooking support compared to only 29% of Millennials, who are more likely to be found browsing YouTube for new dishes (66%).
Despite their gravitation toward social media-based learning hubs, Gen Z is less likely to post cooking-related content on social media, with only 18% saying they've done so compared to 25% of Millennials. Among those who do post about food, 23% of Gen Z and 20% of Millennials say a dish has gotten cold while trying to capture the perfect shot.
Regardless of posting habits, the majority of both groups gravitate toward food that is visually appealing – 70% of Gen Z and 65% of Millennials have ordered food purely based on its looks.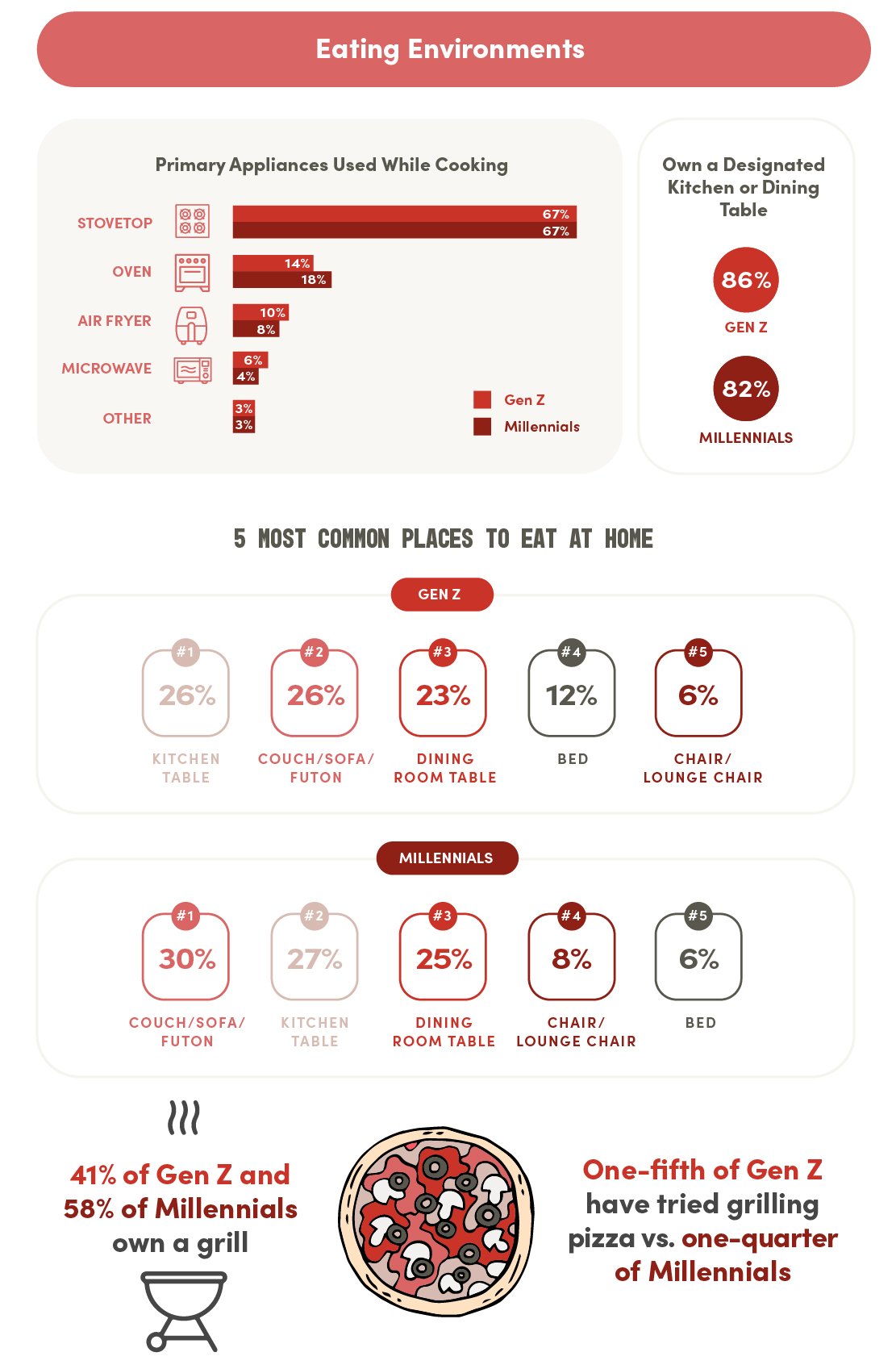 The stovetop reigns supreme among kitchen appliances – 67% of both Gen Z and Millennials report stovetop cooking compared to the oven (14% and 18%, respectively) and the microwave (6% and 4%, respectively).
The majority of Gen Z (86%) and Millennials (82%) report owning a kitchen or dining table, but you might not find them dining there. 26% of Gen Z and 30% of Millennials confess that they regularly eat dinner on the couch.
Gen Z and Millennials: Outdoor Grilling
Both generations enjoy cooking outdoors, with 41% of Gen Z and 58% of Millennials owning a grill, and the recipes they try there are varied. One-fifth of Gen Z have tried grilling pizza vs. one-quarter of Millennials.
Whether they're in the kitchen, at a restaurant, or grilling outdoors, Gen Z and Millennials each have their own cooking quirks. But the next time you're feeling like your cooking skills are lackluster, just remember that it's a skill that takes years to master. And when in doubt, a pizza is always a good backup plan. To find a Home Run Inn frozen pizza retailer in your area, click here.
Methodology
In July 2023, we conducted a nationwide survey of 1,000 Gen Z and 1,000 Millennial respondents. The average age of Gen Z respondents was 23 and the average age of Millennial respondents was 34. Respondents were asked about their cooking and eating habits as well as how often they cook at home and their weekly food budget.
Total respondents: 2,000
Margin of error: +/- 3%
Country: United States (USA)
Region: All Regions
Gender: All Genders
Age of respondents: 18-26 (Gen Z); 27-42 (Millennials)