In our 75 years of business, we've heard from countless pizza connoisseurs about tastes and preferences regarding frozen pizza. These conversations have shaped who we are as a company and the way we craft the products we develop. In the 1960s, we discovered some of our most loyal customers at the original Home Run Inn pizzeria were bringing par-baked pizzas back home with them and saving them in their freezer to enjoy later. Because of this, we started freezing our homemade pizzas and distributing them to neighborhood grocers. The rest, as they say, is history.
While the Home Run Inn recipe has remained the same, quite a bit has changed with frozen pizza since the 1960s. We surveyed 1,029 U.S. consumers about their frozen pizza likes, dislikes, purchasing patterns, and consumption habits to learn more about how consumers buy, eat, and perceive frozen pizza in 2022 and beyond.
See below for the full report: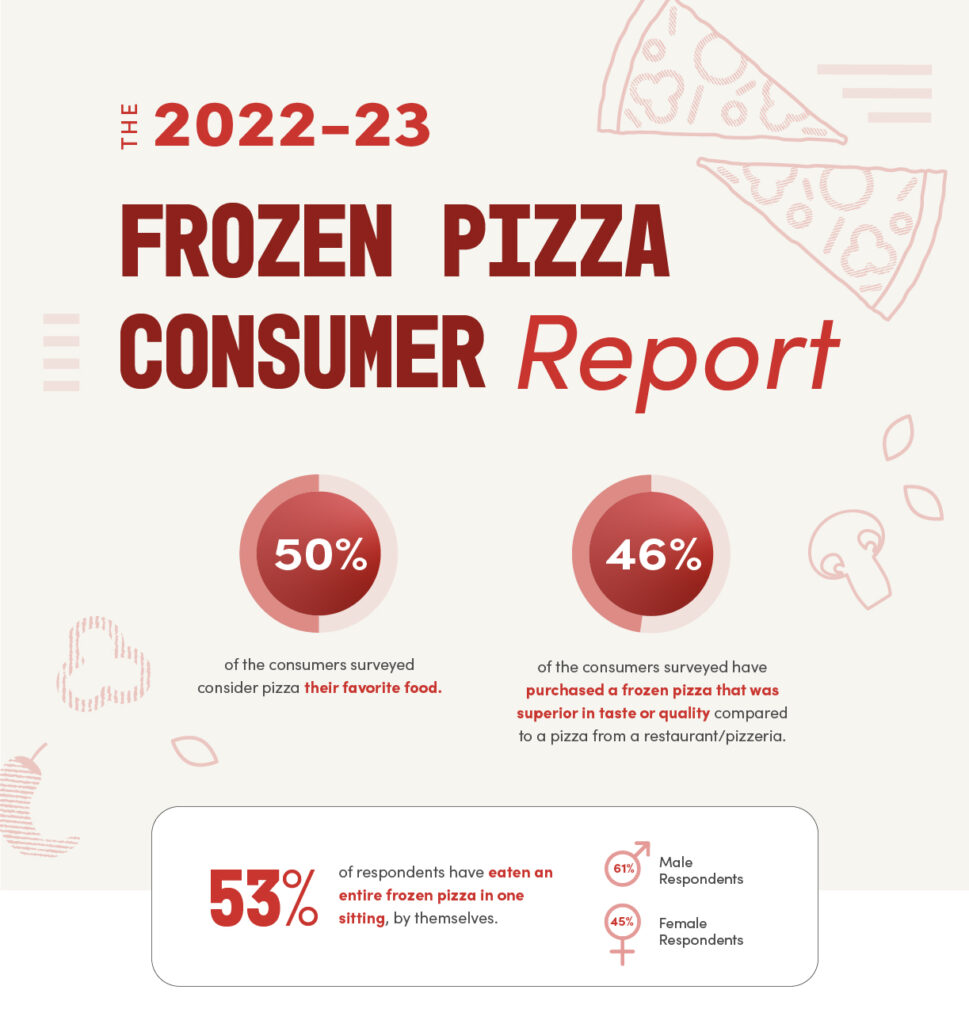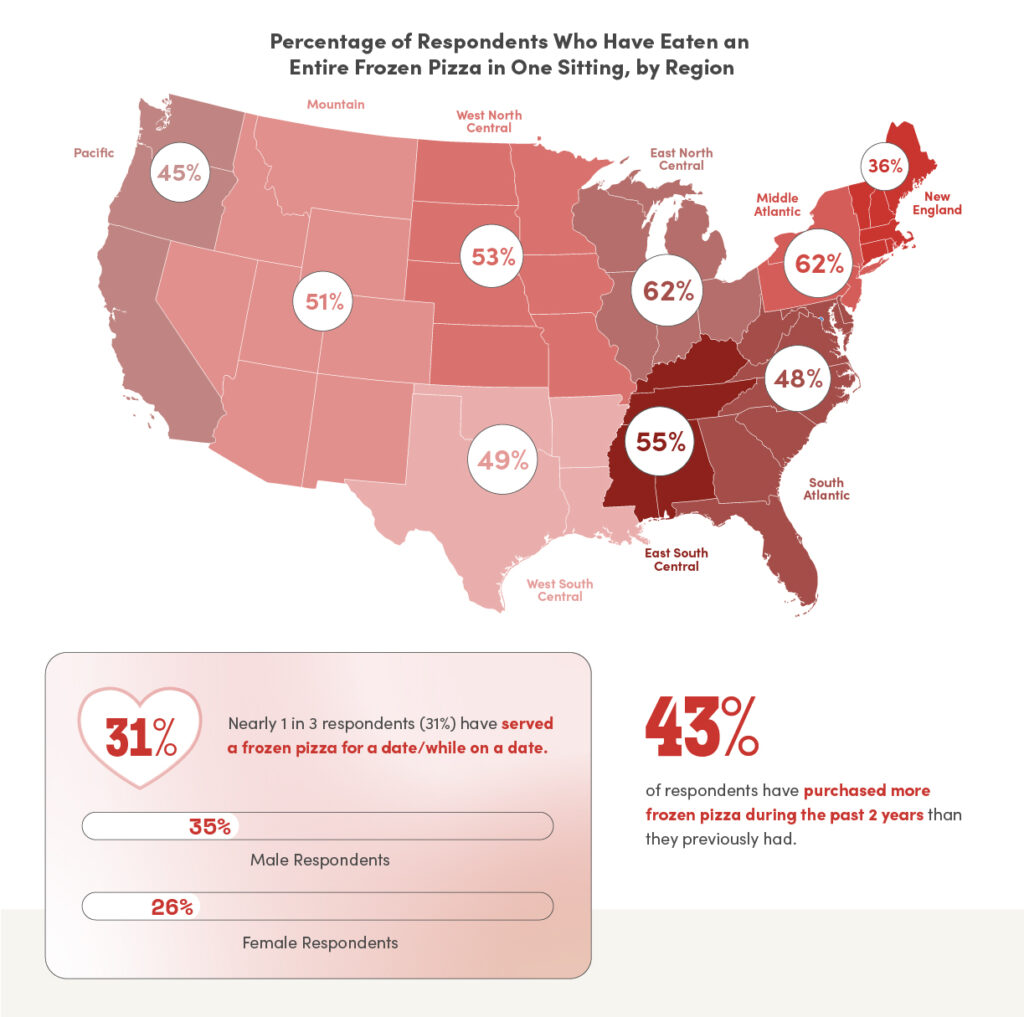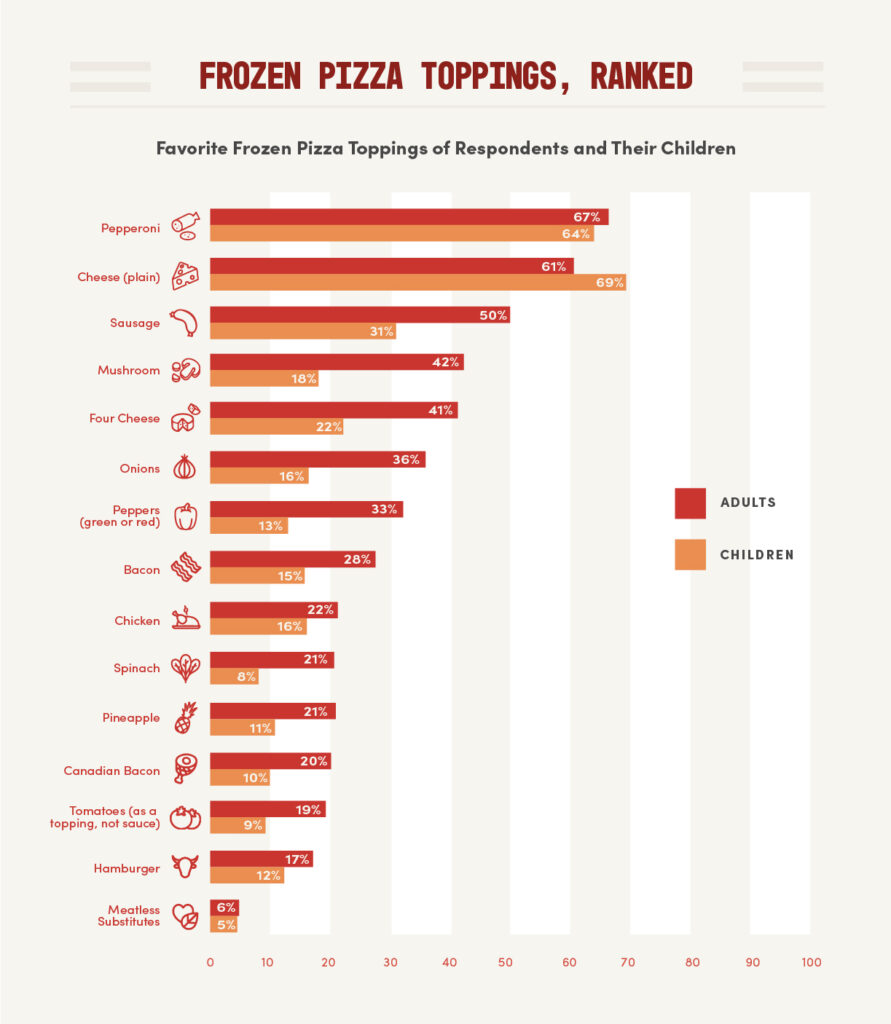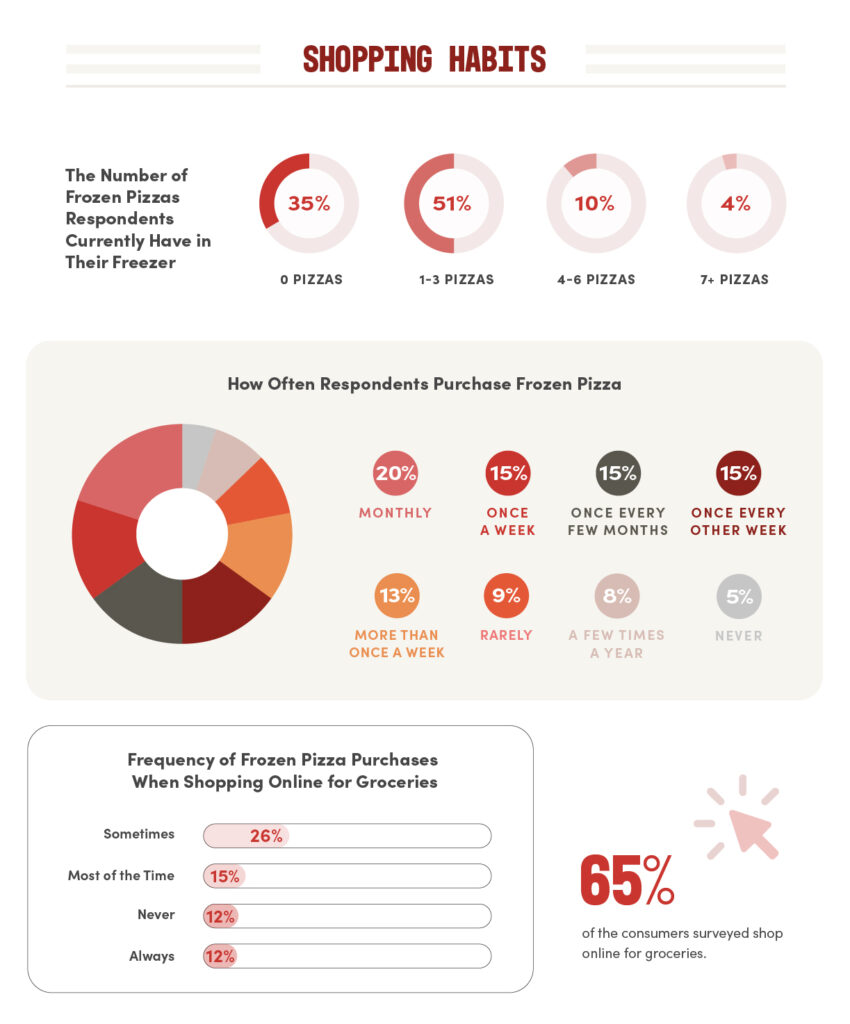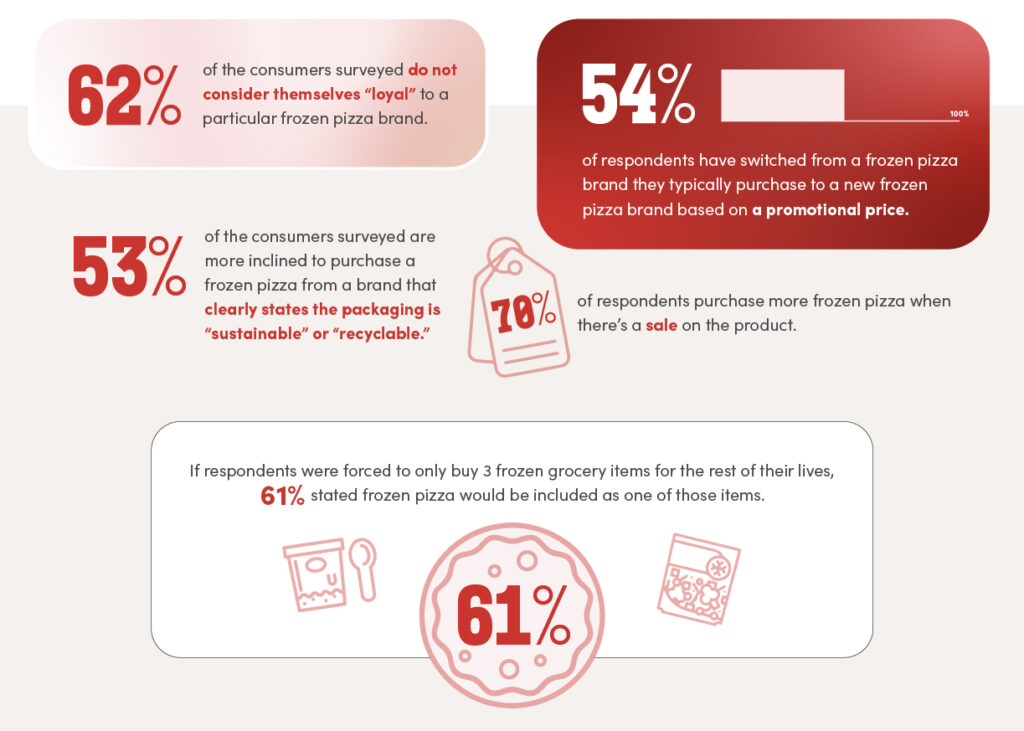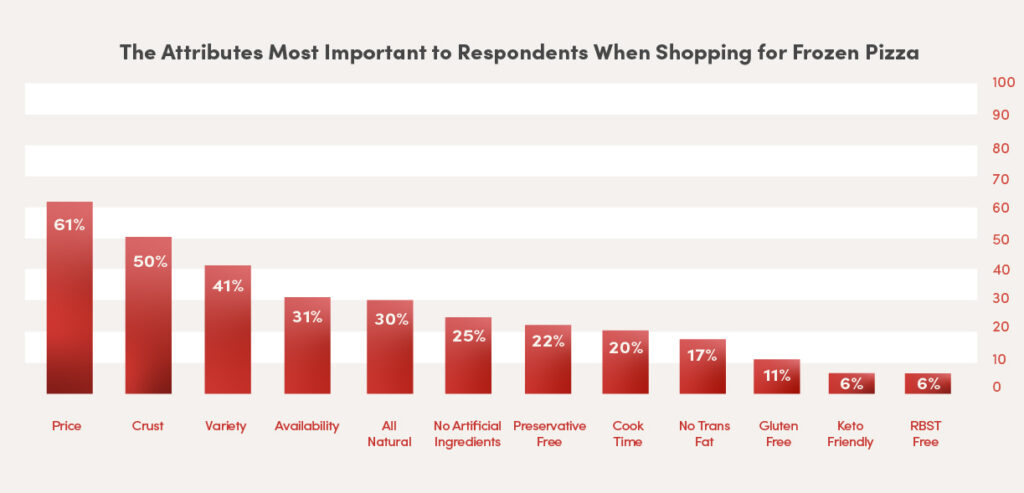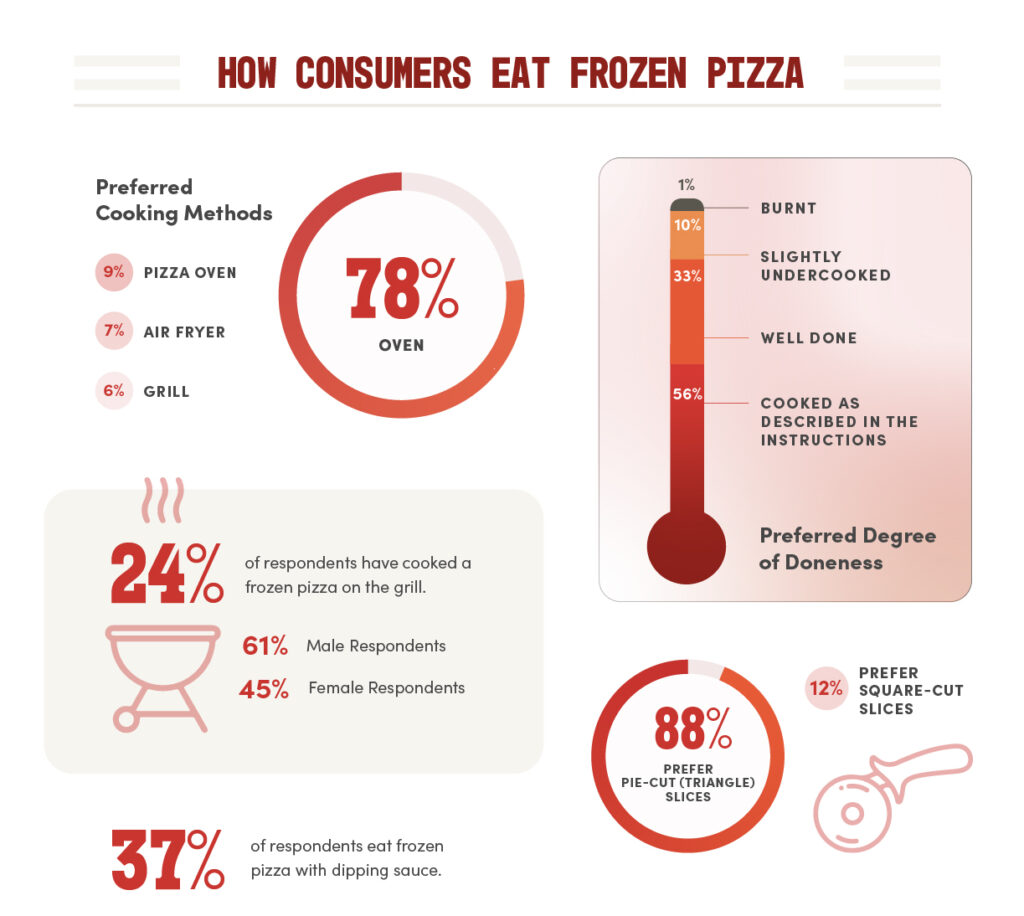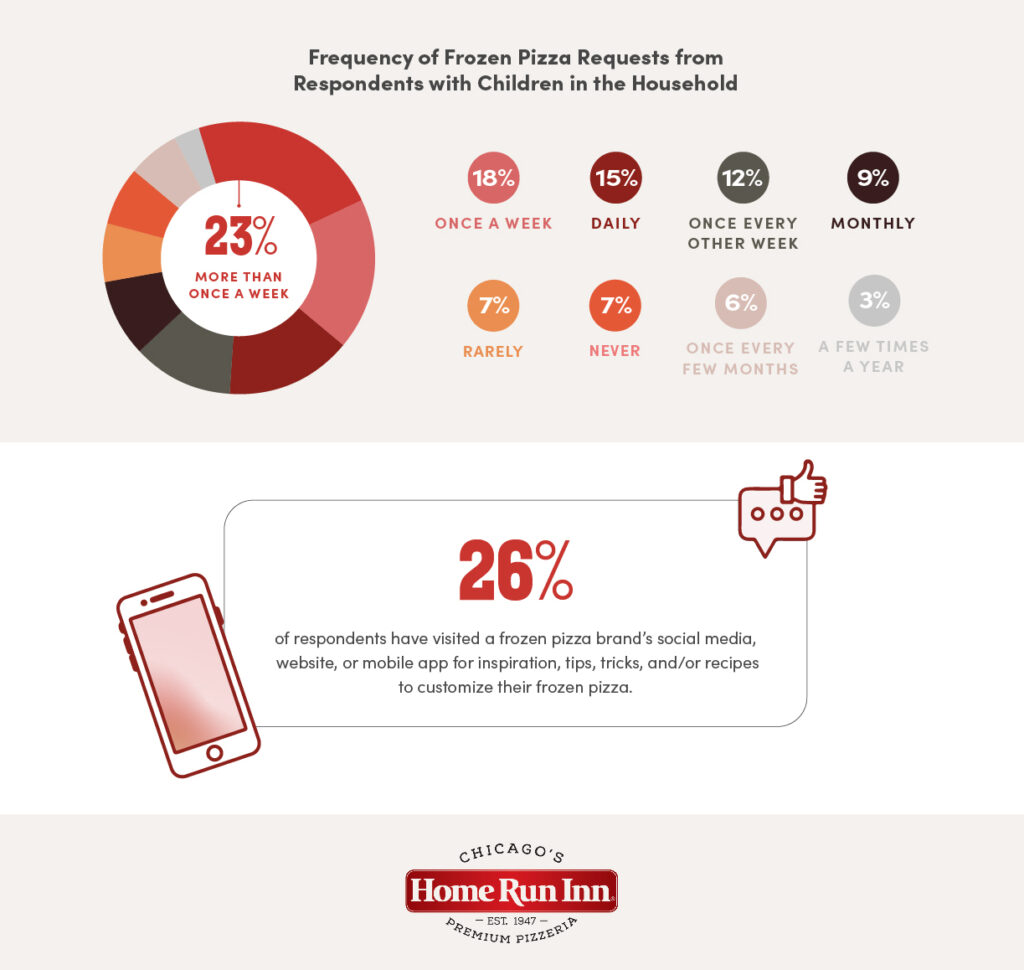 For the Love of Frozen Pizza
We often hear that Home Run Inn frozen pizza is preferred to the pizza served at local pizzerias across the country and, indeed, many of the consumers surveyed prefer frozen to restaurant pizza. In fact, 46% of the consumers surveyed have purchased a frozen pizza that was superior in taste or quality compared to a pizza from a restaurant/pizzeria. Half of the consumers surveyed consider pizza their favorite food.
Frozen Pizza Toppings, Ranked
While there's no shortage of opinions on which frozen pizza toppings are considered the best, we asked consumers which toppings are their favorite — both adults and their children.
Top 5 Frozen Pizza Toppings for Adults
Pepperoni
Cheese (plain)
Sausage
Mushroom
Four cheese
Top 5 Frozen Pizza Toppings for Children
Cheese (plain)
Pepperoni
Sausage
Four cheese
Mushroom
The least favorite frozen pizza topping for both adults and children was "meatless substitute." Surprisingly, the survey revealed that 21% of adults and 11% of children prefer pineapple as a frozen pizza topping.
The Hunger Is Real
It's true, you can limit yourself to only two slices of pizza — by making a single cut down the middle of a pizza. Interestingly, 53% of respondents have eaten an entire frozen pizza in one sitting, by themselves — with 61% of male respondents and 45% of female respondents admitting to the feat.
Regionally in the U.S., the Middle Atlantic and East North Central regions reign supreme, having the highest percentage of respondents who have eaten a full frozen pizza by themselves in one sitting. Runners-up include the East South Central, West North Central, and Mountain regions. The region with the lowest percentage of respondents who have completed the one-pizza feast is New England.
Nearly 1 in 3 respondents (31%) have served a frozen pizza while on a date — with 35% of males and 26% of females having cooked a frozen pizza for their significant other.
Shopping habits evolved over the course of the pandemic, with 43% of respondents stating they have purchased more frozen pizza during the past 2 years than they previously had.
A majority of the consumers surveyed (65%) shop online for groceries — with 41% stating they purchase frozen pizza online "most of the time" or "sometimes."
Frozen Pizza Loyalty
62% of the consumers surveyed do not consider themselves "loyal" to a particular frozen pizza brand. In fact, 54% of respondents have switched from a frozen pizza brand they typically purchase to a new frozen pizza brand based on a promotional price.
Respondents are also more inclined to purchase more pizza when there's a sale, with 70% of the consumers surveyed laying that claim.
The Final Touch
We love hearing about all of the ways that our fans use spices, sauces, and additional toppings to customize their Home Run Inn frozen pizzas. View a list of the recipes that HRI has compiled.
As for the consumers surveyed in the report, unsurprisingly, parmesan cheese (56%) was the top ingredient/spice that respondents prefer eating with frozen pizza. Runners-up include red pepper flakes (40%), garlic salt/powder (26%), Italian seasoning (24%), oregano (21%), "nothing" (19%), hot peppers (giardiniera) (15%), spinach (15%), and "other spices" (8%).
As for the preferred dipping sauces that respondents like to eat with frozen pizza, ranch comes out on top, with 64% of respondents choosing it over any other sauce. Runners-up include hot sauce (40%), garlic sauce (31%), marinara (29%), BBQ sauce (27%), sriracha (22%), and ketchup (22%).
Top Foods Respondents Eat with Frozen Pizza
Salad (63%)
Garlic bread (41%)
Wings (40%)
Mozzarella sticks (31%)
Pasta (22%)
Vegetables (20%)
Square Cut vs. Pie Cut Pizza
Home Run Inn is Chicago's premium pizzeria, so we like our slices cut in squares. While the idea of square-cut pizza may be somewhat new to consumers across the country, we've been cutting our pizzas in squares since 1947. Interestingly, 12% of respondents prefer their pizza cut in squares and 88% said they prefer their pizza pie cut.
To learn more about Home Run Inn frozen pizza products, check out our frozen pizza varieties.
Survey Methodology
Total respondents: 1,029
Margin of error: +/- 3.117%
Country: United States (USA)
Region: All Regions
Gender: All Genders
Gender balancing: Census
Age of respondents: 18 – 99+
Age balancing: Basic Census