It must be March because anticipation for college basketball is hitting fever pitch.
Brackets have been filled out and fans are eager to see how their hand-picked predictions will pan out and whether their top pick will go all the way and bring home the trophy.
But just how big is the appetite for this year's college basketball tournament?
In order to get a better understanding, we surveyed college basketball fans across the country to ask them all about their viewing habits, favorite teams, go-to snacks, and pizza preferences during the tournament. And let's face it, no watch party would be complete without plenty of pizza to go around.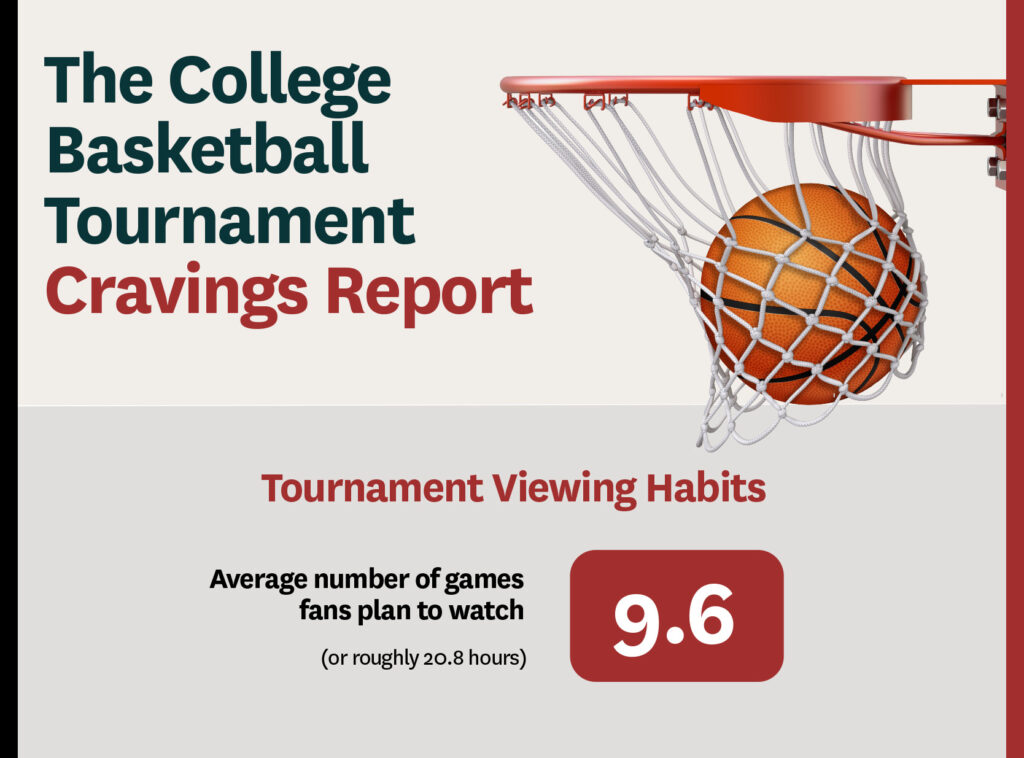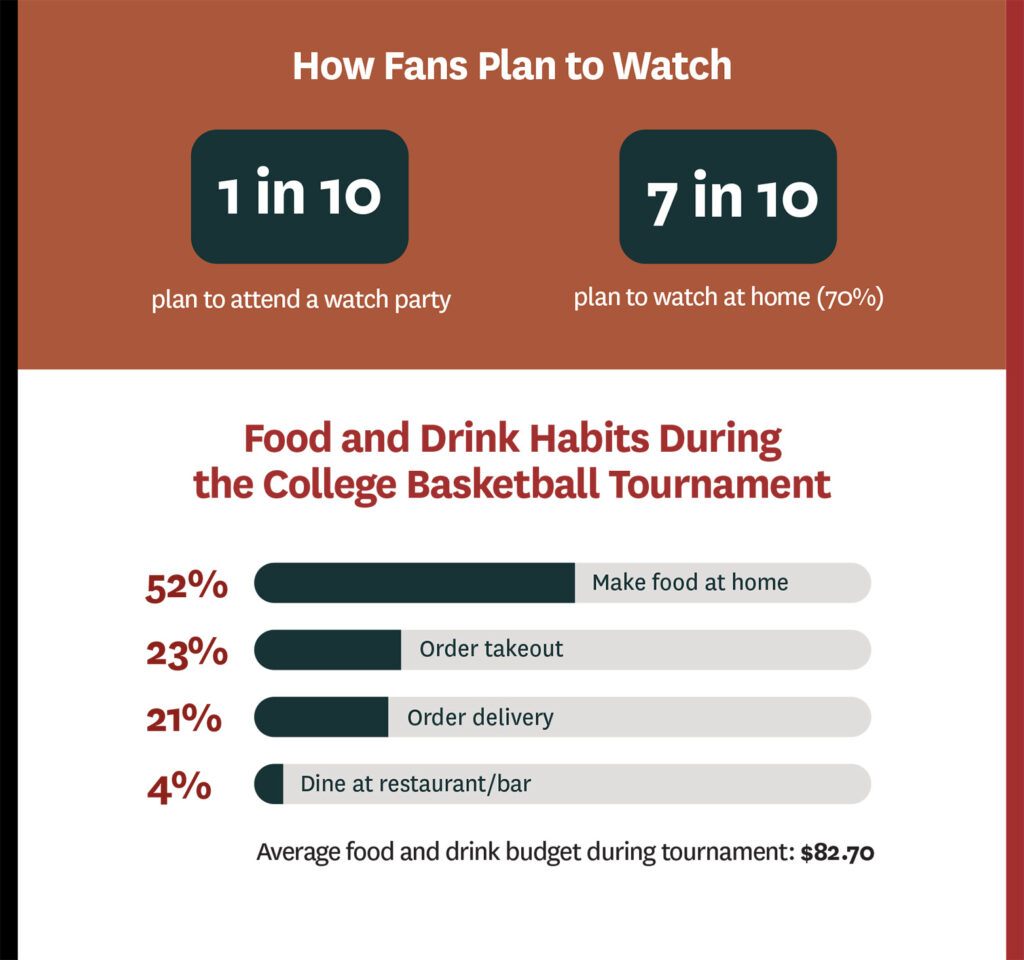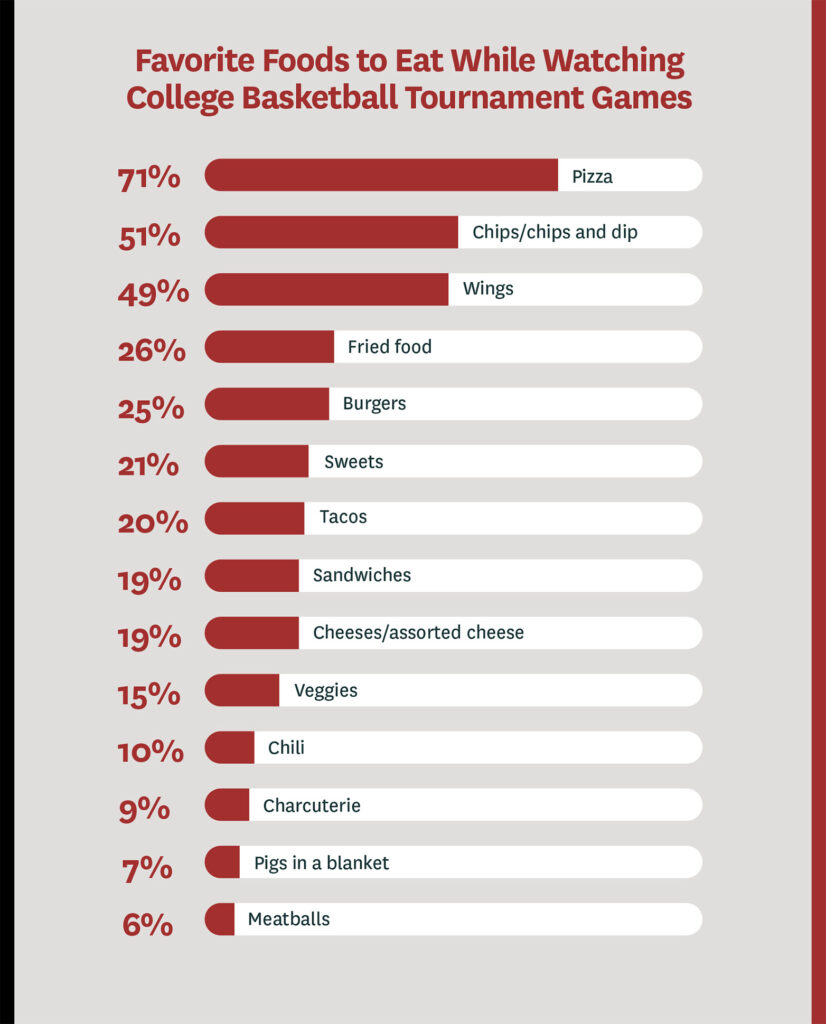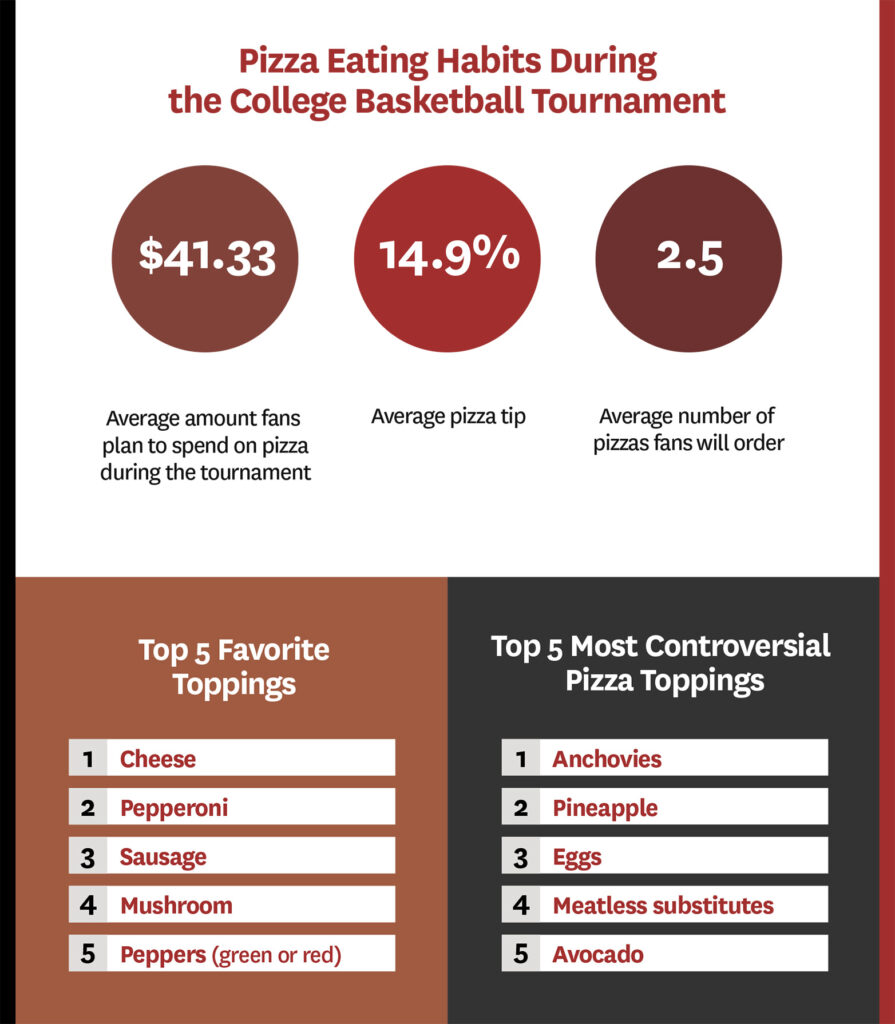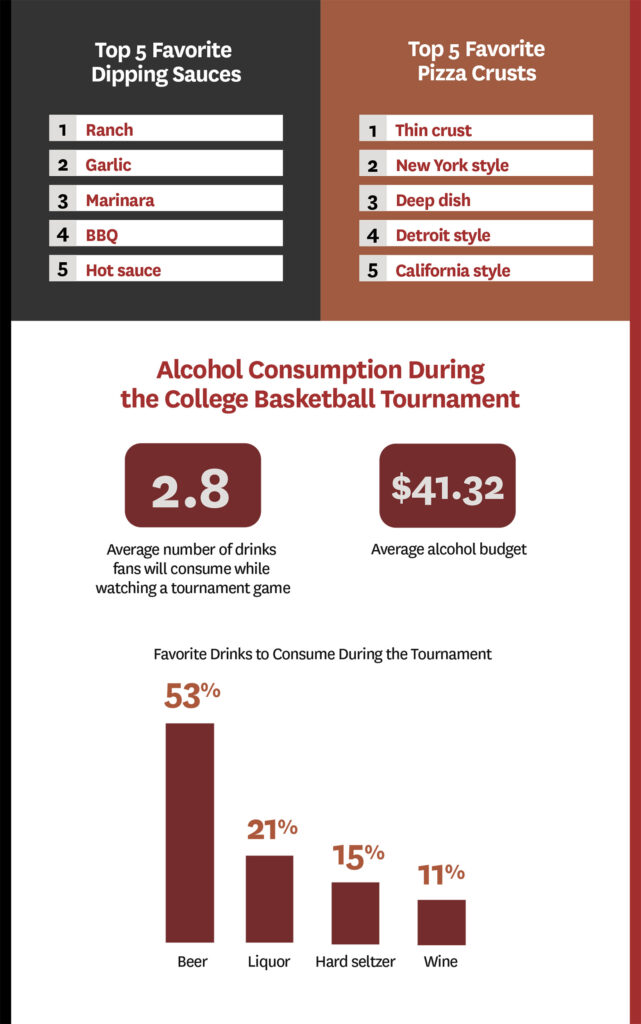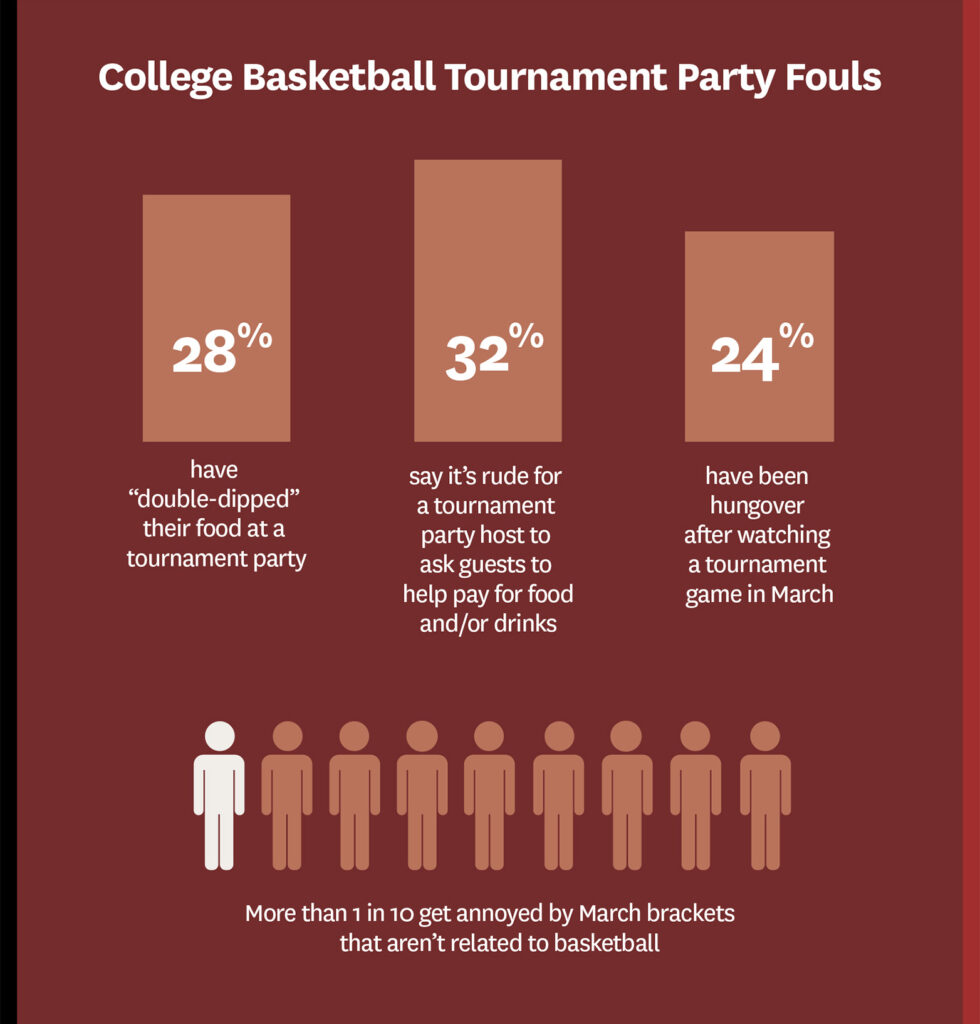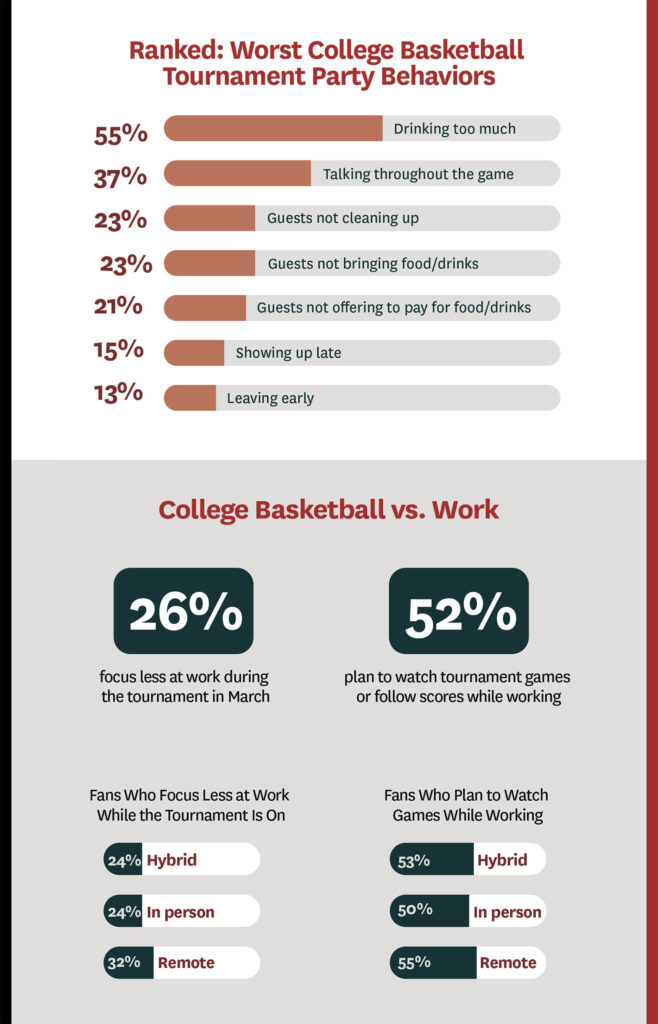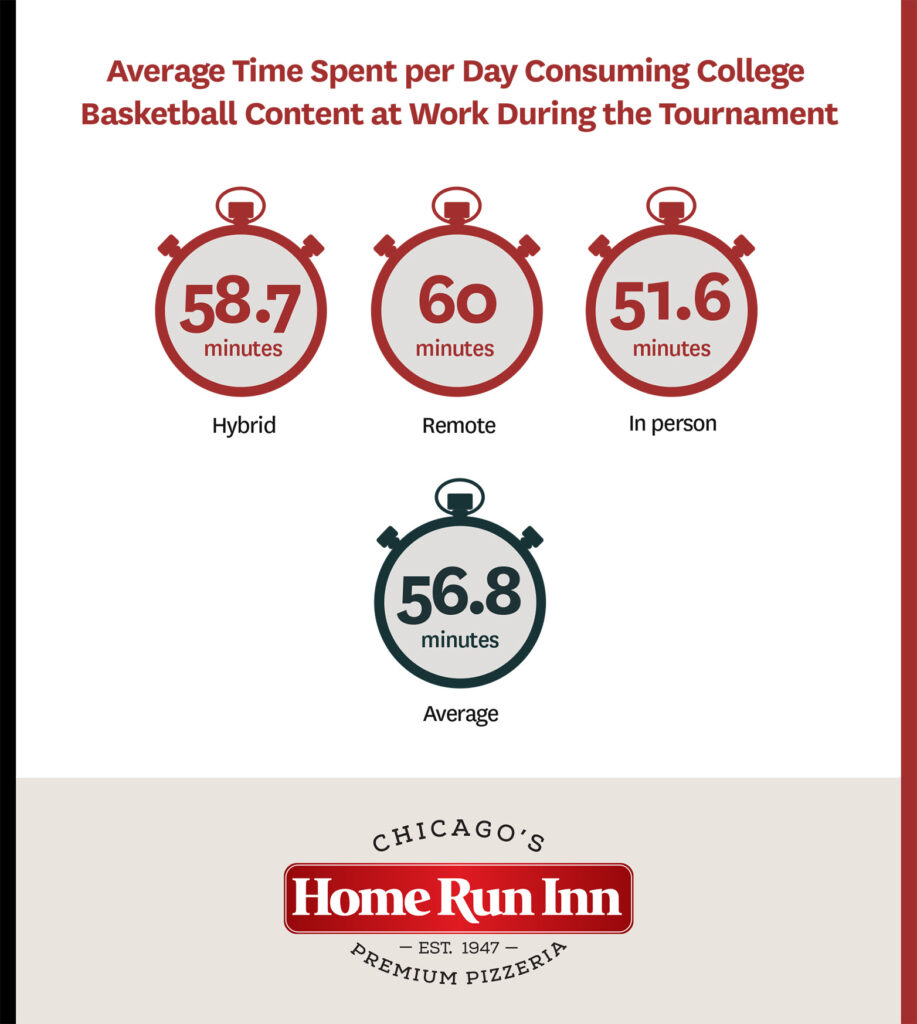 Tournament Viewing Habits
According to respondents, fans plan to watch an average of 9.6 games during this year's tournament. Considering the average game is slightly over two hours, that's more than 20 hours of time spent watching college basketball. Throughout the tournament, 67 games will be played.
Top 12 Most Die-Hard College Basketball Tournament Fan Bases
Which fan bases will be watching the most? According to respondents, University of Michigan fans can claim the moniker for "most die-hard fans." Wolverine fans plan to watch an average of 13.1 games. Even if they aren't part of the biggest postseason event, you can bet fans will be following their every move. Not far behind, Indiana, Michigan State, and Kansas fans all plan to watch at least 11 games!
Favorite Foods to Eat While Watching College Basketball Tournament Games
With so many games to watch, how do fans plan to fuel their appetite?
According to our survey, fans say they expect to spend an average of $82.70 throughout the tournament on food and drinks. The No. 1 go-to food for this year's tournament is none other than pizza. Overall, 71% of fans said they'll be craving pizza the most, and they plan to spend an average of $41.33 on pizza while watching the tournament.
Top 12 Biggest Pizza Lovers
Which fans will be ordering pizza the most? Michigan State fans take the top spot as they plan to order an average of 3.4 pizzas throughout the tournament. Rounding out the top five biggest pizza lovers are LSU, Georgia Tech, Texas, and Oregon. https://datawrapper.dwcdn.net/K74m2/2/
Among all respondents, cheese ranked as the No. 1 favorite topping while anchovies were voted the most controversial.
Top 12 Biggest Drinkers
Pizza and alcoholic drinks go hand in hand during a watch party, which is why we also asked fans over the age of 21 how much they plan to drink while watching a game. On average, fans said they plan to consume about 2.8 alcoholic drinks during a game. https://datawrapper.dwcdn.net/czGn4/2/
College Basketball Tournament Party Fouls
There's a fine line between keeping your cool during a watch party and committing a party foul. However, quite a few fans have crossed that line, according to respondents.
Overall, nearly 3 in 10 (28%) admit that they have "double-dipped" their food during a tournament watch party and nearly one-quarter (24%) have been hungover after watching a game.
Speaking of being hungover, the majority of fans (55%) said drinking too much during a watch party is the worst behavior, followed by talking throughout the game (37%).
College Basketball vs. Work
With so many tournament games to watch, fans are bound to sneak in time to catch up on the scores during work.
Among full-time workers, more than half (52%) plan to either watch tournament games or follow scores while they're working. Remote workers were most likely to say they'll be following along at work.
Overall, fans say they plan to consume an average of 56.8 minutes of tournament content per workday.
Considering fans plan to consume nearly an hour of college basketball during their workday, bosses and managers might want to keep a watchful eye on employees while the tournament is on. Of course, there's a good chance bosses and managers might be glued to the games as well! https://datawrapper.dwcdn.net/9sYwK/3/
Methodology:
We conducted a survey with a nationally representative sample based on U.S. Census Bureau data. Respondents were asked about their viewing habits as well as food and drink consumption during college basketball tournament season.
Total respondents: 1,002
Margin of error: +/- 3.1%
Country: United States (USA)
Region: All Regions
Gender: All Genders
Gender balancing: Census
Age of respondents: 18–99+
Age balancing: Basic Census