Our blog post today is brought to you by our friend Chris, creator of the deliciously creative Instagram account, @LilysLunches. She will give advice on how to make your child's lunch not only fun to make but fun to eat!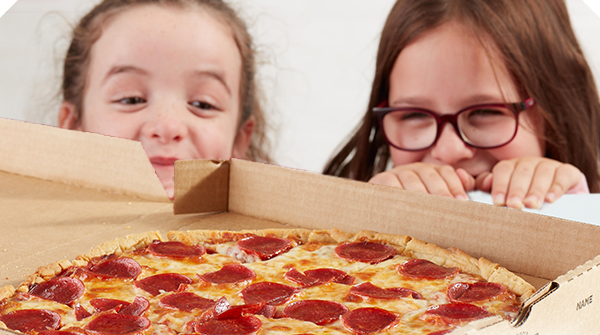 With another school year fast approaching, it's time to start thinking about packed lunches again. It's easy to fall into a lunch rut with the same five things showing up in your kids' lunchbox over and over. But it doesn't have to be that way! Everyone's lunch-packing style (and kids) are different, but pizza is a pretty universal favorite.
I live on the west coast, so there aren't any Home Run Inn pizza restaurants close to me, but I do buy the frozen pizzas. I like that I recognize every ingredient used in the pizza– and that it's delicious! My daughter loves the pepperoni pizza, so that's the one we get the most.
My daughter is four and I have been packing her lunches since she started preschool two years ago. This year I started posting her lunches to Instagram and in looking over the last hundred or so lunches, I realized that my philosophy on lunches is pretty simple: provide fruit, veggies, protein, mostly whole grains, dairy and fun! I also like to keep highly processed foods and sugar to a minimum. And since I also work full-time, it has to be something that I can put together quickly.
There are lots of great lunch boxes out there, but our favorite is Planetbox. Just pop open the lid and all your food is right there in front of you separated into compartments. Aside from being very environmentally-friendly, it also helps out the teachers at my daughter's school since they don't have to go around opening a hundred little packages.
Now, my daughter LOVES pizza. And fortunately, for me, there is no reason why pizza can't be part of a nutritionally complete and healthy lunch. Home Run Inn is the only frozen pizza I will pack for her because she loves it and I love that it's not highly processed and full of chemicals and food-like products.
So here's how I incorporate pizza into a healthy lunch…I take full advantage of summer produce, so you will see lots of berries packed for lunch this time of year. Since we are working on acquiring a taste for salad, I tend to pack another form of veggies, just to make sure she's getting some sort of veggie. In this case it's veggie chips with taro, batata, parsnip, sweet potato, and yuca. These are not homemade, but aside from the veggies, the only other ingredients are sunflower oil and salt.
This lunch provides good variety and includes carbs for energy, fat to help absorb all those nutrients from the fruits and veggies, and protein to help keep her satiated through the day. It's colorful, has tons of variety, and includes yummy pizza! I always pack lunches in the evening and in the morning, I put the cold lunchbox into an insulated carrying case where it stays cool for a couple of hours. By lunch time, the pizza has just come to room temperature- just how she likes it!
For more lunch ideas, you can find me on Instagram (@LilysLunches) where I have over a hundred unique lunches posted. Happy lunch packing.